Profile – プロフィール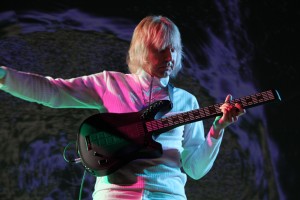 クリストファー・カレル – Christopher Currell
音楽プロデューサー、ギターリスト。シンセサイザーの最高峰シンクラビアの先駆者であり、最先端の楽器Ztar演奏の第一人者。クインシー・ジョーンズ、ポール・サイモン、スティービー・ワンダーなどと音楽制作に携わる。マイケル・ジャクソンの「BAD」の製作やワールドコンサートの演奏などマイケルの全盛期を支える。現在は活動拠点を日本に移し、サウンドバイブレーションを使ってリスナーの心をやすらげ、意識を高め、宇宙と意識をつなぐ即興演奏のプロジェクトishwish (イシュウィシュ) の創作活動や演奏を行う。2011年に若い世代のバイブレーションと共鳴するプロジェクトPlenum Void (プレナム・ヴォイド) を開始し演奏活動を行う。2012年末にプロジェクト、カレル・エフェクトを開始する。2013年末に、新たにクリストファーの活動を全て紹介するトランスフォーメーション・ツールズを立ち上げる。
ishwish – イシュウィシュ
エレクトロニック、アンビエント、テクスチャー、リズミックな要素を含む即興演奏で、サウンド・アート・サイエンスを使い、純粋にバイブレーションのレベルで宇宙の知識を伝達し、リスナーを宇宙や異なった時空間・次元への旅に導くことを意図している。リスナーや環境のバイブレーションとishwishが奏でるサウンドバイブレーションが組み合わさった即興演奏が、リスナーの心が安らぎ、意識が高まり、宇宙へとつなぐ。
~ishwishからのメッセージ~
サウンドはバイブレーションです。
サウンドと同様に、宇宙もまたバイブレーションです。
更に深く見ると、バイブレーションの中には情報があります。
私たちが捜し求める全ての知識はその中に宿っているのです
私たちは単に耳を傾けて聴くだけです。
Plenum Void – プレナム・ヴォイド
プレナムとは「物質で充満した空間」、ヴォイドとは「物質が全く無い空間」を意味する。全ての可能性が潜んでいる何もない空間、『無からの創造』をテーマとしているクリストファー・カレルの音楽プロジェクト。作品全体に宇宙的な要素が漂っているプレナム・ヴォイドのエレクトロニックミュージックをとおして、若者にポジティブなメッセージが伝わり、ワクワクするようなインスピレーションが湧くことを願っている。
Currell Effect – カレルエフェクト
クリストファー・カレルは、常に「すべてはバイブレーションである」ことを、人々に気づかせる機会を提供している。その一つにカレルフェクトがある。
クリストファーが創り出すサウンドバイブレーションを高性能のオーディオ再生システムで聴くことで、リスナーは宇宙・ユニバースのバイブレーションと共鳴しコネクトし、ユニバースへの旅、異なった時空間や次元への旅を体験する。さらにサウンドのハーモニック共鳴により、量子ポテンシャルへとコネクトするたため、意識拡張を促す手助けとなるとてもパワフルなサウンドのセッションである。
カレルエフェクトに関する詳細は下記をご覧ください。
http://transformation.ishwish.net/ce/
Transformation Tools – トランスフォーメーション・ツールズ
クリストファーが今までの活動を一カ所にまとめたプロジェクト。ミュージック、カレルエフェクト、iExpansion(ワークショップ、セミナー、レクチャー)から構成されている。クリストファーの活動は、常に人々の意識を拡張し高めることがゴールである。従って、トランスフォーメーション・ツールズは、意識拡張と変容のための数々のツールを紹介する。
トランスフォーメーション・ツールズ-ウェブサイト
Audio Cybernetics website (English)
オーディオ・サイバネティックス-ブログ
ishwish-ウェブサイト
ishwish-ブログ
プレナム・ヴォイド-ウェブサイト
カレルエフェクト-ウェブサイト
Christopher Currell
For a total of over 30 years, Christopher Currell has composed, performed and synthesized a broad range of music, including classical, jazz, rock, avant-garde and pop. Christopher has worked on a wide variety of projects from film scores to pop albums to video games to theme parks. Christopher is pioneering in the field of guitar synthesis. Some of the exceptional musicians Christopher has had the privilege of working with include Quincy Jones, Michael Jackson, Paul Simon, Meatloaf, Luther Vandross, Denny Seiwell, Jennifer Batten, Sheryl Crow, Jimmy Smith, Stevie Wonder, Allan Holdsworth, Stryper, Dokken, and Stanley Clark.
MICHAEL JACKSON – BAD Christopher Currell performed the Synclavier, Digital Guitar, and many special effects on this award winning album. Christopher also helped arrange the hit "BAD" along with Michael Jackson and Quincy Jones. Christopher also played Synclavier and Digital Guitar on Michael Jackson's "BAD" world tour. MICHAEL JACKSON – HISTORY Christopher has also contributed to Michael Jackson's album "HISTORY." Christopher's listed album credits include: Rhythm Arrangements, Synclavier, Guitars and Percussion.
NEW DIRECTIONS
Since working with Michael Jackson, Christopher has pursued questions concerning the basis of the subjective and objective nature that sound has on the human mind and physical system. Most importantly, how sound can link the human mind and spirit to universal consciousness. Christopher has discovered that the answers to these questions are to be found in the area of quantum physics…more specifically, having to do with Quantum Holography and phase-conjugate-adaptive-resonance (PCAR). This research has cumulated in the form of his music project called "ishwish."
Currently, Christopher resides in Japan where he lives and creates in the mountains and forest overlooking the ocean and Mt Fuji, and being very active with improvised music projects called ishwish, Plenum Void.
At the end of 2012, Christopher started a project called Currell Effect.
He always reminds people that "Everything is a vibration." By listening to the sound vibrations created by Christopher, listeners can resonate and connect to the vibration of the universe/quantum potential due to the harmonic resonance, and experience journeys through the universe, different times and dimensions. The Currell Effect is a very powerful sound session, which helps people expand their consciousness.
Christopher is always evolving and at the end of 2013, he launched another project "Transformation Tools." All of Christopher's activities come together under the Transformation Tools or TT, and it consists of Music, the Currell Effect and iExpansion (workshops, seminars and lectures).  His goal has always been to expand and raise people's consciousness. TT will be the place where we introduce various tools for consciousness expansion and transformation.
Discography – ディスコグラフィー
ソロアルバム:
Christopher Currell – "Garden of Aeon" (2014)
Christopher Currell – "Garden of Zoe" (2013)
Currell Effect Vol. Two Disk 1~4 (2013)
Currell Effect Vol. One Disk 1~4 (2012)
Plenum Void – Special Limited Edition (2011)
ishwish – "Meditations" (2010)
ishwish – "The Gates of Dawn" (2009)
ishwish – "Remember" (2007)
Christopher Currell – "Aural Vibrational Manifestations" (2005)
Christopher Currell – "Heart Sutra" (1994/2010)
その他のクレジット(一部)
DVD:
Michael Jackson "BAD 25" – Live Performance at Wembley Stadium in London (2012)
"GAIA SYMPHONY〜地球交響曲" 第一番, 第三番 (Japan)
映画:
"GAIA SYMPHONY〜地球交響曲" 第七番 (2011)
"Live UFO '93″
チャゲ&飛鳥 (Japan)
"孔雀王3″
Pony Canyon (Japan)
アルバム:
"BAD" – Michael Jackson
"F-1 The Exhaust Sound '91″
 Formula 1 Grand Prix,
 Pony Canyon (Japan)
"F-1 The Exhaust Sound '92" 
Formula 1 Grand Prix, Pony Canyon (Japan)
"Tears & Reasons"
 松任谷由実,
 Toshiba EMI (Japan)
"Birth"
尾崎豊,
CBS/Sony (Japan)
"月夜にGood Luck" 岩崎良美, CBS/Sony (Japan)
"Shadow Brain" 
Currell / Maloney,
 Pony Canyon (Japan)
"Every Girl"
 Gwinko, 
CBS/Sony (Japan)
"Kiss Kiss" 松岡英明, 
Epic/Sony Records (Japan)
"Dress"
 TM Network, 
Epic/Sony Records (Japan)
"To Hell with the Devil"
 Stryper,
 Enigma
"Under Lock and Key" 
Dokken,
 Elektra
"Victim of Emotion"
 Reggie Burrell,
 CBS Records
"A Synth for Christmas"
 Rob Meurer,
 Spindletop Records
"Don't Stop"
ZIII,
 Warner Brothers
"Skool Boyz"
 Skool Boyz,
 Columbia Records
"Culture Vulture"
 David Rastamo,
 Sire Records
"Slum Lord"
 David Rastamo, 
Sire Records
"孔雀王3" 
Currell / Maloney, 
Pony Canyon (Japan)
"Virtual Drug Club Remix"
 Currell / Maloney, 
Pony Canyon (Japan)
"Virtual Drug – Ecstasy"
 Currell / Maloney,
 Pony Canyon (Japan)
"Virtual Drug – Trance"
 Currell / Maloney,
 Pony Canyon (Japan)
"Childhood Dream"
 Masao Maki,
 Muse Records
"Sube"
 Beto Hale,
 Lalo Records
"Music With Nature-Impressions Of the Rocky Mountains"
 Steve Haun, 
SNH Productions
テレビ/CM:
"Sazale"
CM, 
Fuji Television & JAL Airlines (Japan)
"Disney Channel"
 (10 channel ID's)
"New Animal World" 
Bill Burrud Productions 
(40 episodes for 
Disney Channel)
"Adventure World"
 Bill Burrud Productions 
(8 episodes for 
Disney Channel)
"Discovery Channel" 
Virtual Audio Processing 
(nature sounds)
CD-ROM:
"Spaceship Warlock"
 Sony (new for future release)
"Shadow Brain"
 Currell / Maloney, 
Pony Canyon (Japan)
テーマパーク:
"Wisdom Industries"
 Pirate Ship
 Virtual Audio Processing
"NASCAR"
 Pepsi 400
 Virtual Audio Processing
"Walt Disney" 
Indiana Jones (Tokyo Sea)
 Virtual Audio Processing