CEX: Official Release! 公式リリース!
Official Release of Currell Effect X
カレルエフェクトX 発表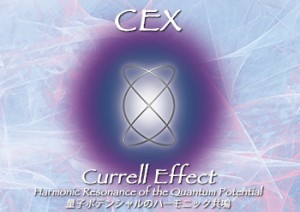 カレルエフェクトは、意識拡張を促すとてもパワフルなサウンドのセッションです。
「この旅はあなたから始まりあなたで終わるのです!
このエキサイティングなアドベンチャーにようこそ!」
クリストファー・カレル
待望のカレルエフェクトX、略してCEXの開催を正式に発表いたします。
CEXのデビューとともにトランスフォーメーション・ツールズのサイトにCEのページを追加しました。
「カレルエフェクト ウェルカム」ページ
http://transformation.ishwish.net/ce/
CEX 東京
2014年6月7日 (土)~8日 (日)・スペース オブバイフォー
詳細とご予約


 http://transformation.ishwish.net/cex/
第1回目のCEX開催を記念して、今回限りのスペシャル価格をご用意致しました。
今までのカレルエフェクトとは違い、CEXのセッションを受けることが出来る人数は限られております。詳細は下記のクリストファー・カレルからの説明をご覧ください。
「CEXリリースに関する情報」
http://transformation.ishwish.net/ce/release.php
CEXの体験を最適化したいと思っているCEX参加者のために、3日間のCEX準備コースのワークショップも提供しています。
CEX準備コース
2014年5月3日(土)、 4日(日)、11日(日)
詳細とご予約


http://transformation.ishwish.net/cexprep/
CEX準備コースに参加いただいたCEメンバー限定のパッケージ価格も発表しました。

*******
The Currell Effect is a very powerful sound session, which helps people expand their consciousness.
"The journey ultimately begins and ends with you.
We welcome you to join us on this amazing adventure!"
Christopher Currell
The much-awaited Currell Effect X (CEX) release is officially announced.
Together with the debut of CEX, we now have CE page on the Transformation Tools website.
"Welcome to Currell Effect" page
http://transformation.ishwish.net/ce/
Currell Effect X Tokyo
June 7 (Sat) ~ 8 (Sun), 2014・Space ofbyfor


 http://transformation.ishwish.net/cex/
(Japanese)
We announced a one time special CEX session price to commemorate the launch.
Unlike the previous Currell Effect, the number of participants who can take the sessions are limited. Please see the CEX Release Information by Christopher Currell.
http://transformation.ishwish.net/ce/release_en.php
We are providing a three day CEX Prep Course for CEX participants who want to optimize their CEX experiences.
CEX Preparation Course
May 3 (Sat), 4 (Sun), 11 (Sun)


http://transformation.ishwish.net/cexprep/
(Japanese)
We are also providing CEX Prep Course and CEX Session Package price for CE members.
Please contact tt_office@ishwish.net for details on CEX and CEX Prep Course.