REPORT: CE & CE-RELAX 2019.10
カレルエフェクト2019.10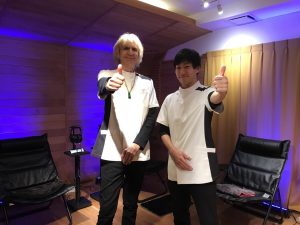 10月のカレルエフェクトは、お友達がスタッフとしてお手伝いに来てくれました。
今回も素敵な参加者に恵まれ、皆さん大きな気づきを得ることができたようで、嬉しく思います。その後のどのようなアフターエフェクトがあるのか楽しみだと大きな笑顔で帰られた方が多かったのが印象的でした。
 ~ お知らせ ~
*次回のカレルエフェクト&ディスカッション会
毎年恒例となりましたクリスマスシーズンの12月20日~22日にカレルエフェクトを開催します。また12月27日(金)にディスカッション会を開催します。
2019年は多くの方にとって変化の激しい一年だったと思います。一年の締めくくりにそして新年を迎える準備に、ご自分へのプレゼントとしてぜひセッションにお越しください。
カレルエフェクトは完全予約制ですので、セッションをご希望の方はお早めにご予約されることをお勧めいたします。
この機会に素晴らしいサウンドセッションをご体験ください♪
《CE-RELAX&CE/CEX》
2019年12月20日(金)~ 12月22日(日)
所要時間 – CE-RELAX&CE/CEXセット 約3時間
所要時間 – CE-RELAXのみ 1.5時間
会場: スペース オブバイフォー
CE-RELAX &CE/CEXの詳細&予約
http://transformation.ishwish.net/session/

CE-RELAXの詳細&予約
http://transformation.ishwish.net/relax/session.php

《CEディスカッション会&バイブレーションチューニング》
カレルエフェクト体験者のシェアリングと交流の場♪
2019年12月27日(金)14:00-16:15(13:50受付開始)
料金 :2,000円
会場:i-dream吉祥寺
詳細&ご予約:
http://transformation.ishwish.net/session/discussion/
CEセッションに関する情報:
CE & CE-RELAXセット:新しいセッションの流れとスケジュール
CE-RELAXについて
CEとCE-RELAXの違い
CEXについて
CE体験談
CE-RELAX参加者の声
*スピリチュアルTV
9月のスピリチュアルTVはスイスからの出演です。視聴者の方々からの「自分軸で生きることについて」、「月とはどういう天体なのか」、「これからの変化について」などとの質問に、クリストファーの視点でわかりやすくお答えしています。
また、普段は通訳に徹しているりえの視点でのトークもあり、全体を通して、誰にとっても興味深く役立つ内容が満載です♪
YouTube: 『ナイスチームワークで宇宙カフェへ行きましょう』 (9月30日放送)
https://youtu.be/VNCjsG1YAGE
次回は11月26日(火) 午前8時に出演します。
http://spiritual-tv.com/
*その他の動画や雑誌の記事
スピリチュアルTVのインタビューやレクチャーの動画および『スターピープル』マガジンのインタビュー記事。
http://transformation.ishwish.net/video.php
*CEPプロフィールページ
遠方にお住いの方やセッションの日程が合わない方は、認定CEプラクティショナーからセッションを受けることもできます。
http://transformation.ishwish.net/cep/
無限の感謝と喜びを込めて♫
CE & CE-RELAX 2019.10
Our very good friend came to help us as our staff for one day!
We once again had wonderful participants come to the CE and had great realizations from the session. Many left the session with great smiles  looking forward to the after effects.
 ~ Announcement ~
*Next Currell Effect & Discussion Group
The next CE will take place during the Christmas holiday season, from Dec. 20 to 22, which has become our annual tradition! We will also have a CE discussion Group on Dec. 27.
For many people, this year has been a time of many changes in their lives. How about giving yourself a nice Christmas present by attending the CE-RELAX and CE sessions during the busy end of the year holiday season?
Please take this opportunity to experience the amazing sound session!
<CE & CE-RELAX in Tokyo>
Dec. 20 (Fri) ~ Dec. 22 (Sun), 2019
CE-RELAX & CE/CEX Set – about 3 hours
CE-RELAX only – about 1.5 hours
Location – Space ofbyfor
CE & CE-RELAX
http://transformation.ishwish.net/session/form_en/

CE-RELAX
http://transformation.ishwish.net/relax/index_en.php

<CE Discussion Group & Vibrational Tuning>
Sharing & Discussion for CE Participants ♪
Dec. 27 (Fri) 14:00-16:15 (doors open at 13:50)
Fee: 2,000 yen
Location: i-dream Kichijoji
Please contact: tt_office@ishwish.net
Website (Japanese): http://transformation.ishwish.net/session/discussion/
Information on CE Session:
CE & CE-RELAX Set: New Flow and Schedule
About CE-RELAX
The differences between Currell Effect and CE-RELAX
About CEX
*Spiritual TV

Christopher and Lie made their appearances from Switzerland.
Christopher answered to various questions from the viewers; such as "how to live centering on oneself as an axis", "what is our moon?", "changes that are coming", in a very easy to understand way.
And Lie normally appears as an interpreter but she also shared her viewpoints. I'm sure many people find this program very interesting.
YouTube: "Let's Go To Cosmic Cafe with Good Team Work"
https://youtu.be/VNCjsG1YAGE
The next appearance is Nov. 26 (Tue) at 8:00am Japan time (Sun. 4 pm, LA time).
http://spiritual-tv.com/
*Other videos and interviews
Christopher's interviews and lectures on Spiritual TV.
http://transformation.ishwish.net/video.php
*Currell Effect Practitioner Program
If you are interested in becoming a CE Practitioner, please see the link below.
http://transformation.ishwish.net/cepp/index_en.php
With Infinite Gratitude & Joy♫