REPORT: CE & CE-RELAX 2017.10
カレルエフェクト & CE-RELAX 2017.10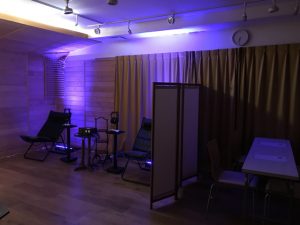 10月7日〜9日に開催したカレルエフェクト&CE-RELAXは再び大勢の参加者に恵まれ、素敵な体験を各自していただき、嬉しく思います。
ストレス解消とカレルエフェクトの準備のために開発したCE-RELAXを発表して以来、ほぼ全員がセットでセッションを受けていただいており、セットの相乗効果を非常に高く評価していただいております。
そして、今回からよりスムーズにCE-RELAXとCEのセットを提供できるよう、セッションのスケジュールおよび流れを変え、大変好評に終わりました!
カレルエフェクトの開催に合わせて『スターピープル』マガジンのインタビューもあり、写真撮影も行われました。2017 Winter Vol. 65号に掲載されるインタビュー記事は、「聴くことによる悟り」をテーマにした特集だそうです!お楽しみに!
次回のCE & CE-RELAXは、恒例のクリスマスシーズンに開催します!
CE & CE-RELAXセット:新しいセッションの流れとスケジュール
CE-RELAXについて
CEとCE-RELAXの違い
CE体験談
CE-RELAX参加者の声
本ページの最後にあるフォトギャラリーもご覧ください。
 ~ お知らせ!~
*次回のCE&CE-RELAXセッション
席に限りがありますので、お早めのご予約をお勧めします。
《CE & CE-RELAX東京》
2017年12月23日(土)~ 12月25日(月)
所要時間 – CE&CE-RELAXセット 約3時間
所要時間 – CE/CE-RELAXのみ1.5時間
会場: スペース オブバイフォー
CE詳細&予約
http://transformation.ishwish.net/session/


CE-RELAX詳細&予約
http://transformation.ishwish.net/relax/session.php


*スピリチュアルTV
次回は12月4日午前8時に出演します。
http://spiritual-tv.com/
スピリチュアルTVのインタビューやレクチャーの動画および『スターピープル』マガジンのインタビュー記事。
http://transformation.ishwish.net/video.php
*CEPプロフィールページ
遠方にお住いの方やセッションの日程が合わない方は、認定CEプラクティショナーからセッションを受けることもできます。
http://transformation.ishwish.net/cep/
無限の感謝と喜びを込めて♫
CE & CE-RELAX 2017.10
We once again had many participants at the Currell Effect & CE-RELAX on Oct. 7 to 9. They all seemed to have had wonderful experiences.
Since the debut of the CE-RELAX, which was developed as a preparation for the CE session by de-stressing and relaxing the participants, almost everybody has taken CE & CE-RELAX sessions as a set. We received great feedback about the amazing synergy effect.
This time, we rearranged the session schedule and the flow so that we can provide the set sessions smoothly and efficiently. The feedback on the new flow was very positive.
We also had an interview and the photo shoot by Star People magazine. The interview will appear in 2017 Winter Vol. 65 issue!
The next CE & CE-RELAX will be during Christmas season!
CE & CE-RELAX Set: New Flow and Schedule
About CE-RELAX
The differences between Currell Effect and CE-RELAX
Please take a look at the photo gallery at the end of this page.
 ~ Announcement! ~
*Next CE/CE-RELAX Session
<CE & CE-RELAX Session in Tokyo>
Dec. 23 (Sat) ~ Dec. 25 (Mon), 2017
CE & CE-RELAX Set – about 3 hours
CE or CE-RELAX Session – about1.5 hours
Location – Space ofbyfor
Currell Effect
http://transformation.ishwish.net/session/form_en/


CE-RELAX
http://transformation.ishwish.net/relax/index_en.php


*Spiritual TV
The next appearance is Dec. 4th (Mon) at 8:00 am Japan time (Sun. 4 pm, LA time).
http://spiritual-tv.com/
Christopher's interviews and lectures on Spiritual TV.
http://transformation.ishwish.net/video.php
*Currell Effect Practitioner Program
If you are interested in becoming a CE Practitioner, please see the link below.
http://transformation.ishwish.net/cepp/index_en.php

With Infinite Gratitude & Joy♫